Let's give a big welcome to our fantastic guest judge for the week…….Kari from Ucreate. Isn't she just the cutest? Kari is a mom of 4 with a passion to create. Her blog is devoted to showcasing ideas, inspiration, and tutorials from all around blogland. With a loyal following of over 5000 people, Kari is committed to to keeping her readers informed and updated with the latest trends in crafting.
Each week she introduces a new "creative guest" featuring fabulous new tutorials and amazing ideas. As the blog world continues to rapidly grow, there is never a shortage of creative genius to feature. Kari says one of her favorite things is how excited she gets each and every time she stumbles upon a brand spankin new craft blog! Recently she started a fun new feature on her blog called "Create With Me". This is an online craft group where everyone who chooses to participate creates the same craft using the same tutorial once a month. Anyone can join in….it's free and fun, with no commitment. How fun to see all the different interpretations of the same basic craft!
Kari….we are sooooooooooo excited to have you join us as our guest judge for the week. This week's challenge should be a blast!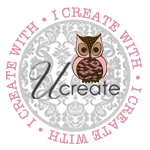 Be sure and come back Tuesday morning to link up your projects for our current challenge…………..
FRAMES,  ART,  and WALL DECOR.