This week's sponsor is the creative, talented, identical twins sisters of the DIY Dish.

The DIY Dish Web Show brings you the latest and greatest projects, reviews, and how-to's with everything DIY! Hosts, Kim and Kris, love the creative process. In 2006, Kim started the popular DIY website, www.YouCanMakeThis.com. Two years later, Kris began managing the 2nd "sister site", www.SWAKembroidery.com. And in 2009, a 3rd DIY website was added to the mix: www.YouCanQuiltThis.com. Whether it be sewing, crafting, scrapbooking, quilting, embroidery, family projects, and more, you'll enjoy watching The DIY Dish and participating too!
I have recently become fans of theirs after seeing their awesome garland for summer barbecues.  What a great way to keep track of silverware, condiments, and paper necessities for your next backyard bash.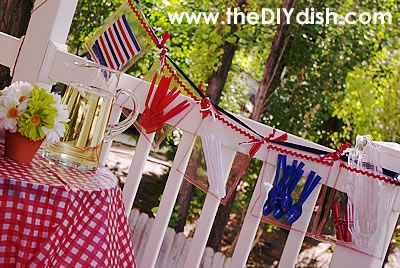 They currently have 11 crafting webisodes…click below to view
They are giving away two lucky challenge participants a copy of their new video called "Summer Crafts."  If you are already struggling with keeping your kids busy this video is for you.  They are offering the video at an introductory price of $19.95.  Watch a snippet of the video below to see what fantastic projects you can learn.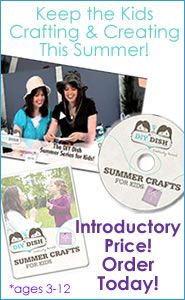 Welcome the DIY Dish girls to The CSI Project!
You won't want to miss a beat from these girls.  Sign up for the free newsletter and be automatically entered into numerous drawings they will have in the future by clicking on their site and signing up at the top blue section.