This was a fun week and I was so inspired by your Love themed projects. You definitely make love look grand!
Be sure to go through the links and find some inspiration for yourself.
Our guest judge Vixen from Vixen Made had the most difficult job picking the winners. I think she did a fantastic job though!
Here is what she said about her judging experience:
 I had a blast being a judge on CSI project!  I'm always impressed by everyone else's creativity and craftiness, so this gave me the perfect excuse to explore even more!  I don't always have time to find other blogs either, but I was able to visit a bunch of new and inspiring blogs and it was so much fun!  I was completely honored to be a judge here and I hope I helped in finding some fabulous picks!  Thanks so much!
And the winners are……drum roll, please…..
#25 Sweetheart Clock from Sweet Yarns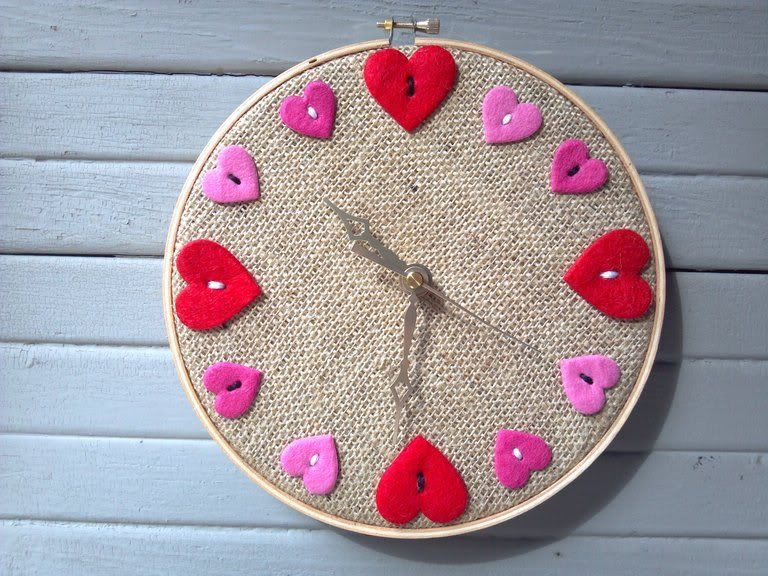 –
I love everything about this.  The buttons, the burlap, the hearts, the embroidery hoop and the fact that she made it into a clock makes me love it even more!  Gotta love a functional piece of art.
#5 ABC I Love You printable from Cox's Corner
 I love freebies.  Especially cute printable art.  This is unique and completely fun, even for kids.
#18 Ombre Paper Heart Necklace from Pitter & Glink
 I was very impressed with this one.  I can't believe she used paper to create a necklace.. and it looks fab!  I would definitely wear that.
#1 Heart Shaped Window cookies from Sweet Suite
I'm still drooling.  I love me some sugar cookies.  Add in some raspberry, shaped like hearts and looking super cute.  I'm sold!
#6 Anniversary Sign from Crafting In the Rain
this is so sweet!!  I love the look of distressed wood signs nowadays.  The trend is rustic and vintage and so cool.  The quote used was completely adorable and she did an awesome job.
#14 Valentine's Mantel from A Diamond in the Stuff
Such a pretty mantel.  I think everyone enjoys to look at a well put together mantel and this one is festive, romantic and yet not in your face.  Very nice!
#19 25th Wedding Anniversary from Marty's Musings
If you've seen my blog, you know I love a party.  The colors and treats look so great!  I love how they put it all together.
#17 Love Photo Prop by Morena's Corner
what a cute idea!  I've seen this before, but I love the originality of the silver plate prop.  Plus, what a sweet gift to give!
#23 Heart Wreath by A Night Owl
 such a simple project, but I love the fresh, updated look of the red!  The simplicity of her wreath won me over.
#15 Heart Lollipops by A Diamond in the Stuff
 Yum!!  These look totally delectable.  I love being able to reuse leftover candy (like candy canes from Christmas) to create something new and way cuter! 
#28 DIY Chalkboard Labels from Twelve-O-Eight
I love creating what you want for WAY less.  Chalkboard labels are wonderful, but can be expensive if you need a lot (for organizing especially).  These DIY ones are perfect and they look great, too!
#31 Couple Keyboard Art from Allons-y Kimberly
This is so creative and I love the look of it. I think keyboard art should be a challenge. Hmm….are you up for it? Thanks for linking this up! It is so great!
Congratulations to all of the CSI winners. Be sure to go grab your button here and proudly display on your blog.
You have earned it!
But wait, there is more.
The lucky winner of the Close To My Heart giveaway is …….
The winner(picked by Random.org
Entry #11 Love Bug Living who linked up her Memory Cigar Box. It is fabulous!
Congrats and thanks for linking up and sharing with us.
Email me at dee@thecsiproject .com to claim your prize
Thank you to Vixen from Vixen Made for being this week's guest judge and making those incredibly difficult picks. Being a judge is not an easy gig. Be sure to go by and visit this blog, daily!
You ladies are Super, duper creative and talented.
A special thank you to Elizabeth from Close to My Heart for being a fabulous sponsor.
Be sure to come back next week as we go Back to School. Don't miss this challenge!
This is sure to be a great week!
Come back next week for even more inspiration!!!
Have a happy and safe weekend!