This was a fun week and I was so inspired by crafting with buttons. I hope you also visited our sponsor of the week, Buttons Galore and More.   I am so honored that you came to The CSI Project to share this week. The creativity is amazing!
  Be sure to go through the links and find some inspiration for yourself.
Our guest judges, Morena and Kadie, had the most difficult job picking the winners. I think they did a fantastic job though!
You can read more about them and their blogging homes, here.
This week was the first week of the Crafty Cornucopia as well.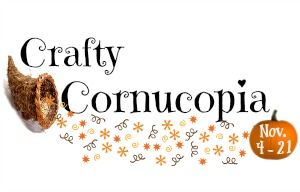 I partnered up with Carrie from My Favorite Finds to bring you the button challenge. Thank you, Carrie for being my partner. To continue competing in The Crafty Cornupcopia, go by My Favorite Finds for more information and challenges.
They had the hard task of selecting the winners, so let's see how they did.
This week, we only 2 winners for the prize and of course the CSI Project pick!
And the winners are……drum roll, please…..
First up, let's start with Morena's #1 pick and winner of the CSI Project Guest Judge.
#10 Button Seahorse from Try, Try Again
Kadie's #1 Pick and the winner of The CSI Project Ad Space.
#15 Christmas Button Decor from 100 Directions
#5 Thanksgiving Pillow from The Beating Hearth
Here are 3 more projects that our judges loved!
#4 Button Bracelet from The Woman at the Well
#6 Lucy's Very Hungry Catepillar from Red Hen Home
#7 Boho Button Necklace from Gone Walkabout 2
Congratulations to all of the CSI winners. Be sure to go grab your button here and proudly display on your blog.
You have earned it!
But wait there is more………..We have a winner of the Buttons Galore and More giveaway
The winner is Ellen Price.
Email:  jeprice49@gmail.com
Thank you to Morena and Kadie for being this week's guest judges and making those incredibly difficult picks. Being a judge is not an easy gig. Be sure to go by and visit their blogs.
A special thank you to Buttons Galore and More for being our sponsor of the week. Be sure to go by their website for buttons and thier daily deals.
Be sure to come back next week for the Beautiful Laundry Room Challenge.
This is sure to be a great week!
Come back next week for even more inspiration!!!