This was a fun week and I was so inspired your Recycled and Upcycled Projects. There is so much talent out there and I am so honored you came here to show off!!!.
Be sure to go through the links and find some inspiration for yourself.
Our guest judge,Rachel from Architecture of a Mom, had the most difficult job picking the winners. I think she did a fantastic job though!
She had the hard task of selecting the winners, so let's see how she did. Here is what she said about her judging experience.
I really enjoyed being a guest judge here at CSI Project! All of these upcycle projects really inspired me. In fact, a lot of my top ten are projects that are now on my to-do list. Thanks so much for your inspiration.
Judges comments in bold.
And the winners are……drum roll, please!
#19 Old Farmhouse Window from Design Diva Wannabe
I've seen a lot of window remakes in my day…as an architect, I see a lot of architectural salvage. But a paper quilt! I want one in my house. Now! Must find some scrapbook paper!
#1 Cupboard Door Serving Tray from Lolly Jane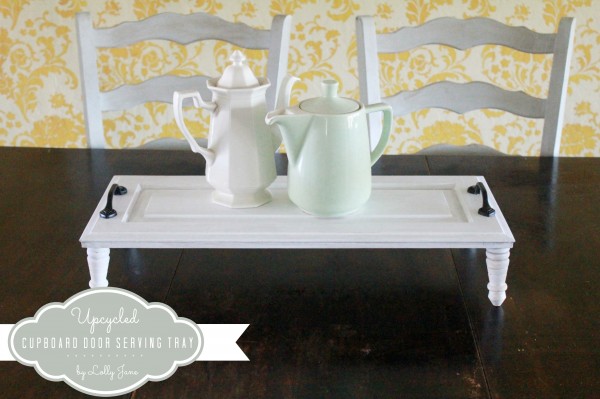 I can't believe that this tray is made from a cupboard door. It makes me want to go looking for old cupboards…or maybe replace mine so I have a supply!
#5 Vintage Train Case Wedding Card Box from The Silly Pearl
I love this idea. I would never have thought to use an old case in my wedding. I think we folks who got married after pinterest should have a do-over!!
#10 Upcycled Spring Pinwheels from Inspired Honey Bee
I love how she reused party decorations for her mantel. It also inspired me…I see some pinwheels in my very near future!
#17 A Slimming Skirt from 3 Pairs of Pants from Serger Pepper
I am in awe of anyone who makes clothes for themselves…I can sew, but I'm just not brave enough! Even better that it's slimming.
#26 Tin Can Flower Vases from Living and Learning with Luisa
If I didn't see the before pictures, I wouldn't know that this project started as tin cans! This is a beautiful centerpiece.
#29 Upcycled Stepstool from Pinkapotomus
All of my stepstools are utilitarian. With 3 little girls, I'm thinking that this project needs to happen in my house…one for all three of them!
#36 Upcycled and Recycled Footstool from the Virginia House
I have some of these footstools…mine are bright red, and I'm thinking that burlap might be the way to go when we redo them!!
#43 He is Risen Plaque from Designed Decor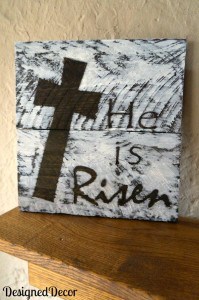 I love this plaque made from pieces from a fence! It amazes me where you can find reclaimed wood for signs
#51 Upcycle Filing Cabinets to Desk from Your Crafty Friend
I'm always looking for a way to organize my office. This is a beautiful and space saving solution!
#57 Bowling Ball Gazing Ball from Under a Pile of Scrap
This was a bowling ball? And flat marbles? This is a beautiful piece of yard art! I can't believe the patience this must have taken! And the variety of the different options.
#50 Starburst Mirror from Night Garden Design

I have a major crush on sunburst mirrors. This one is so pretty! Thanks for linking up!!!
Congratulations to all of the CSI winners. Be sure to go grab your button here and proudly display on your blog.
You have earned it!
Thank you to Rachel from Architecture of a Momfor being this week's guest judge and making those incredibly difficult picks. Being a judge is not an easy gig. Be sure to go by and visit her blog!
Come back next week for the Furniture Transformations Challenge!
Have a great week and stay safe!