There is so much talent out there and  I   am  so honored you came here to show off!!!
 Be sure to go through the links and   find  some  inspiration for yourself.
 Our guest judge, Brenna from Life After Laundry, had  the  most  difficult job  picking the winners. I think she did a  great  job!
This is what Brenna had to say about   her   CSI judging experience:
 I loved the inspiration that I got from being this weeks judge. It has me very excited about Thanksgiving this week, and I can't wait to try to getting in a couple more crafts before then!
Let's see how she did.
 And the winners  are…….Drum   roll  Please!
 Judge's comments in BOLD!
It combines all my favorite things, sewing, embroider,  and buttons!
Her step by step instructions make what I once would have thought too hard, doable.
Chalkboard anything is sooo popular right now. This project is not only cute, but very versatile as you can flip it over when you are not using the chalkboard side.
 # 16. Holiday Blocks from Designed Décor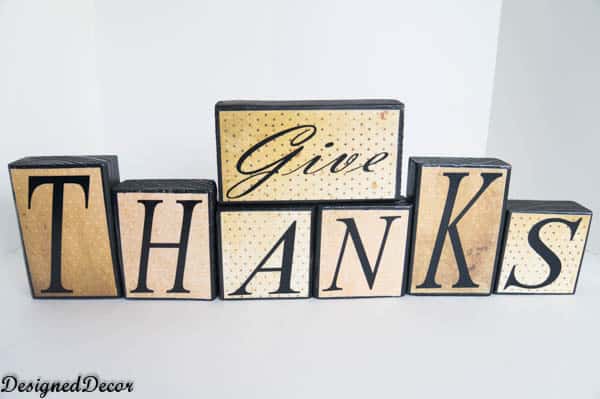 I really try to hold off on Christmas stuff until Thanksgiving is over, and I love how smooth this project would make the transition. Being able to get more use out of a craft before packing it up with the holiday décor is great.
 #11 Give Thanks Banner from Sweet Yarns
I love the burlap and wonderful fall colors used to make this banner. A great tutorial that walks you through the steps to create this beautiful décor
 # 10 DIY Thankful Canvas from Creative Pink Butterfly
I love being able to use my scraps to create something, this is a way to put those leftovers to work whether you have a collection of fabric or paper laying around.
This is such a great idea and a great way to remind our kids that there is so much to be thankful for. I also love the story she tells in the post about her own life experience. This is what Thanksgiving is about and I am so happy Jen shared this with us.
Great job and thanks for linking  up!
Congratulations to all of the CSI winners.   Be  sure to go  grab your button here and proudly display on your blog.
 You have earned it!
Thank you to, Brenna from Life After Laundry, for   being  this week's guest  judge and making those incredibly difficult  picks.  Being  a judge is not an  easy gig. Be sure to go by and  visit her  blog!
From The CSI Project Family to yours, we hope that this Thanksgiving is filled with love, laughter and that you can take the time to reflect on your many blessings!
There will not be a challenge this week because we want you to spend plenty of time with family and friends.