Wow…the links from this week's challenge are blowing us away. Thanks to everyone who shared their dollar store projects with us by linking up. Heather is fast at work visiting all the great projects and mulling over, what is sure to be, a nail biting decision!
While we're waiting, I'd like to introduce next week's challenge….."Frames, Art, and Wall Decor". I am lovin' this one already. I have an obscenely large collection of frames. I adore them because they are so versatile. I love to make my own art on the cheap. And as for wall decor….the skies the limit. You can have a lot of fun and really think outside the box. This is a great way to add a bit of your own unique personality into your decor. Your home should truly be a reflection of the people who live there, right? Here are some fun ideas I pulled from my own home.
Fun With Frames
Make your Own Art
Think Outside the Box Wall Decor
Get those projects ready to link up for next week's challenge. We really enjoy looking through all the links each week. You all continue to amaze and inspire us with your creativity and ingenuity! Keep up the good work. And don't forget to check back Friday morning when we will announce the winners of the "Dollar Store" challenge and the Shey B gift certificates!!!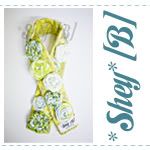 This post brought to you by Shey B.