We're sharing the stage this week at The CSI Project with someone we're very excited to introduce to you.  Please welcome our newest guest judge, Mique.
Mique (pronounced "Mickey") blogs at 30 Days.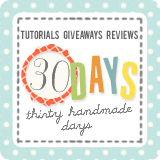 She tells us,
"I started 30days as an idea file a few years ago. After three years and hundreds of ideas, I now realize that I'll never check them all off my list. When I'm not creating, I love spending time with family and friends and long drives, especially if they end at the beach."
Mique is a wife and mother of three.  She balances homemaking with running one of the blogosphere's most talked-about handmade boutique fairs, Queen Bee Market.
Heard of it?  Mmmmhmmm, we thought so!  Mique and her sister, Jess (from Allora Handmade) founded Queen Bee Market, which has quickly become Southern California's premier boutique event.  It's the kind of fair that is enjoyed by vendors and shoppers alike, and welcomes some of the best designers of handmade goodies in America to display their wares.
Mique seems to consistently come up with fun, creative, and thoughtful projects that she posts at 30 Days.  Here are some of our favorites:
Bread in a can (great meet-the-teacher gift!)
Personalized world map
Puzzle piece rice crispy treats (Autism awareness)
We confess to having a crush on Mique's printables.  When you see them, you'll know why.
I'm sew lucky printable and gift idea
Cute as a button printable
Rule the world printables
There is quite a collection of printables over at 30 Days.  You can click here to view more.
Mique works on being organized, just like the rest of us.  Here are a few things she's done to help control the chaos of daily life at her house.
Family artwork display
Food goals printable
Painted labels
We're excited to have Mique joining us as our guest judge for the Organization Ideas Challenge.  We hope you'll take the opportunity to stop by 30 Days and get to know Mique a little better.  Mique is looking forward to gaining inspiration from all of your challenge entries, so we hope you're working hard to get them ready to share!