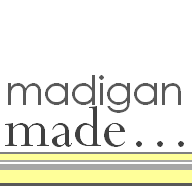 I love to write, take photos and make stuff. (perfect for a creative blog, eh?) I also love my handsome hubby and boisterous pup. (and pretty ribbon, coffee and Nutella, but who's counting?) All of these loves fuel my blog.
If you ever want to stop on over, you will find simple ideas for crafts, recipes and home décor. But: a little disclaimer… My blog  is not a food blog. I dabble in the kitchen and I am very much a novice cook and baker. The common denominator to most of the recipes I share is that they are simple. Kind of a "see, if I can do this, so can you!" approach.
So… What was I thinking signing up for a recipe week here at the CSI Project??? Yeah, I'm still asking myself the same question! I think it is because I have a major sweet tooth and just wanted an excuse to eat pie to share a recipe with you!
I find it hard to be in the kitchen in the summertime. But I looove it when fall rolls around! I enjoy getting my cooking and baking on when the weather is cooler. And nothing says 'fall' to me like pumpkin pie, right? I created this pie after making my pumpkin fluff and a frozen pina colada pie this past year. I thought, why not freeze pumpkin fluff in a pie? And… why not add a little chocolate on top? Chocolate makes everything better!
I made a gingersnap crust, added a layer of pumpkin fluff and then a layer of chocolate gananche on top. The three layers froze into a great little frosty pie.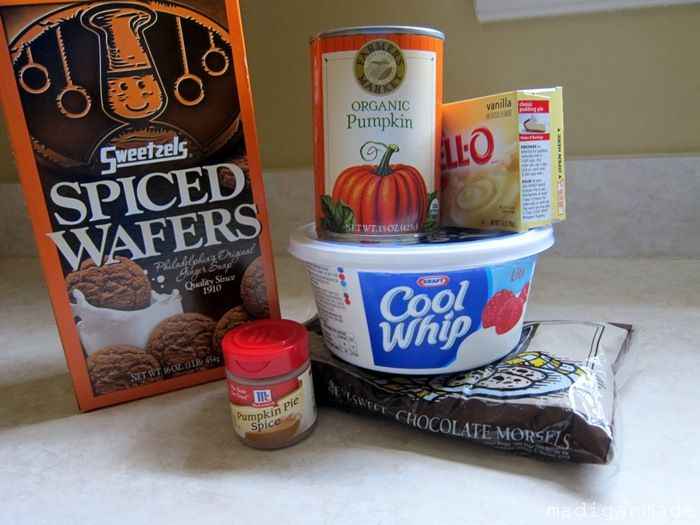 A few recipe notes:
My gingersnap crust turned out a little hard. It still tasted very good… but it was thick and difficult to cut. I'm not sure if I baked the crust too long or packed down the crumbs too much? The type of cookie I used was also a very dense, hard cookie… so maybe that was the reason? Who knows?! I'm really not sure what I did wrong… I'm a novice, remember? Next time I make this I will probably just buy a store bought crust and keep it simple!

The chocolate ganache was very rich. I used semi-sweet chocolate chips and I think next time I make this I will try it with bittersweet chocolate. (because, yes, there will be a next time!)

I used a springform pan. A regular pie pan should work just as well, too. (or… buy a readymade crust like I mentioned above!)
Frozen Spiced Pumpkin and Chocolate Ganache Pie
General instructions:
Bake the crust and allow it to cool. Layer the pumpkin fluff on top. Freeze that for a few hours and then make ganache and pour it on top. Freeze the entire pie afterwards until ready to serve.
For the ginger snap crust:
25-30 gingersnap cookies, crushed (makes about 1 1/2 cup)

1/4 cup butter, melted
Prepare: Preheat oven to 375 degrees.
Combine: Mix the butter and crumbs together. Press mixture evenly down into a pie pan or springform pan.
Bake: Bake for about 8 minutes. Allow crust to cool.
For the pumpkin fluff layer:
8 oz frozen whipped topping, thawed

1/2 of 15 oz can of pureed pumpkin

1 tsp pumpkin pie spice

1 small (5 oz) container of instant vanilla pudding
Combine: In a large bowl, blend all the ingredients thoroughly.
Spread: & freeze: Spread mixture on top of the crust and freeze for a couple hours till more firm.
For the chocolate ganache:
9 oz bittersweet or semisweet chocolate (chopped or in chips)

1 cup heavy whipping cream
Heat: In a small pan over medium heat, warm the cream just to boiling. (watch it carefully!)
Blend: Pour the cream onto the chocolate and whisk until chocolate is smooth.
Pour: Let mixture cool down. Whip it a little bit more and pour on top of the frozen pumpkin layer. (starting in the center)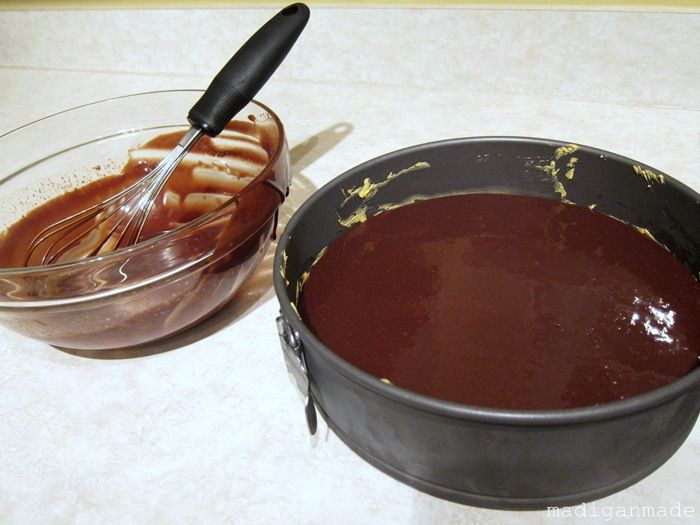 Freeze: Freeze the entire pie for several hours. Prior to serving, remove from freezer. Allow to thaw a little. Cut, serve and enjoy!
YUM! This pie sooo got me in the mood for fall. It would be the perfect thing to make around Halloween or Thanksgiving… or right now, if you must!
For more simple recipes and loads of easy crafts and home décor, be sure to come visit me over at Madigan Made.
And… If you liked this post, why not find out what inspires me by joining me over on  Facebook, Pinterest, Twitter or Stumble Upon?