Hey Everyone!
Merry Christmas and Happy Christmas EVE!
First of all let me say that it has been so much fun to visit your blogs and to get to see how amazingly talented you ladies are…
How in the world am I supposed to pick a winner here?
Holy Sweetness! …Just one?
OK focus I think I can do this!
The Winner:
Homemade Thin Mints
by Poofy Cheeks.
This cookie has everything I want.
I really want to make these beauties…
Do you know they are made with crackers?
Brilliant!
With that said imagine the saltiness of the cracker balanced by the sweetness of the chocolate
and finish it with the pleasant and fresh taste of mint…
Do I need to say any more?
Yes I do!
Perfection!
Candy Cane Crumble Nutella Cookies
by A Pretty life in the Suburbs
Candy Canes… I love!
Nutella… I love!
These cookies… Double the love please!
2
Peanut Butter Blossoms
Cookies like these make me want to say:
THANK YOU FOR MAKING ME FATTER!
3
Samoas Bars
by Southern Lovely.
I know you want them… I do too!
5
Blackberry Mini Tarts
So petite, delicate and cute!
6
Flourless Chocolate Snow Mountains
If you think about it who needs flour when you can have 1/2 cup ground almonds!
Please be my neighbor!
Seriously please!
7
"Rum" Balls
My mom would love one of these…
…or two … or three.
8
Gluten-Free Peppermint Chocolate Sandwiches
I was sold when I read… " melt-in-your-mouth good".
9
Fancy Pants Sugar Cookies
by Copy Craft.
So festive!
10
Ginger Bread Cookies
by The Hyper House.
I couldn't let a classic pass by!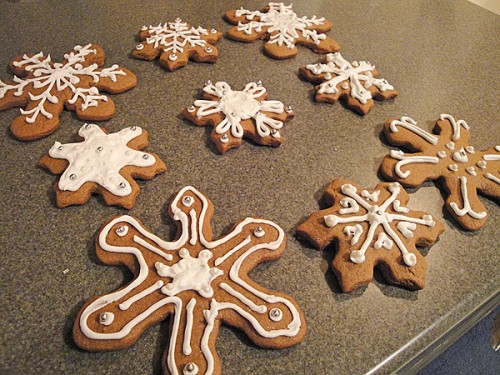 Before I go I want to thank The CSI Project Team for having me.
I party here all the time so I feel honored to participate this week as a Guest Judge.
So Much FUN!
Now I better go I need to do some wrapping and make some cookies 😉
First Cookie Exchange Party
I love all of the details of this party. Food labels, water bottles and that cute banner!
You did a great job and the recipes looked so yummy!!!
Congratulations to all of the CSI winners. Be sure to go grab your button here and proudly display on your blog.
You have earned it!
But wait, we have winners of the Christmas Extravaganza!
The winners(picked by Random.org)
The 5 winners of the My Grafico products are
Entry #7, Eggless Double Chocolate Cookies By Family Ever After
Comment #3, Vickie who said,"I would LOVE to win the Peppermint Party Package from My Grafico – my sons' birthday party is coming up and this would be PERFECT for our theme!"
Staci Johnson from Just Sew Sassy
Entry #29, Cornflake Wreaths from A Recovering Craft Hoarder
Entry #43, Chocolate Crinkle Cookies from Southern Lovely
And the Winner of the Fabric Shoppe Christmas Bundle
Comment #10 Lucy who said, " I don't think there was a pattern I viewed that I wouldn't welcome into my sewing room! I really liked the zigzag patterns, the various Circa 1934 fabrics by Cosmo Cricket, Lark, Mocca Heavy & Aviary 2. Lovely!!"
Be sure to email me at dee@thecsiproject if you are a winner. Especially Vickie and Lucy because I do not have contact information for you.
Thank you My Grafico and Fabric Shoppe for being our sponsors this week!
You can find Fabric Shoppe on our sidebar anytime.
A BIG thank you to Desiree, from The 36th Avenue for being a fabulous guest judge.
Be sure to enter the Scentsy giveaway going on right now as part of our Christmas Extravaganza.
Today is Christmas Eve, so I wish everyone a very Happy Holiday!