Hey, y'all!  I'm Bethany–a wife, mother to a furry "dog-ter," English teacher, aspiring decorator, and crafter.
I blog about my crafting and dabbling in decorating at Pitter and Glink.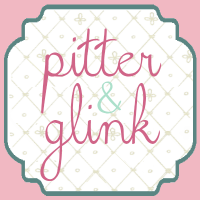 I couldn't be more excited to be hanging out at The CSI Project today!  I am a huge fan of the weekly competition that happens here.  As I'm sure you know, this week's challenge is Valentine's in August.  When it comes to decorating for holidays, I like to use items that are versatile.  I don't have a ton of storage space in my house, so I can't buy a multitude of holiday specific items, even though I'd love to.  With this in mind, today I'm sharing how to make a versatile piece of Valentine's decor.
First, you need a few supplies to make the cloche.
Wooden candle holder
Small wooden disc
Large wooden disc
Finial
Glass pillar candle holder
Wood glue
Industrial strength adhesive
Paint & paint brush
Begin by assembling the cloche stand.
Glue the small wooden disc to the bottom of the candle stick.  I used a nail to help secure the disc as well.
Next, glue the large disc to the top of the candle stick.  I used a nail in this step as well.
If your finial has a screw in the bottom of it as mine did, use pliers to remove the screw.  Then paint the newly assembled cloche stand and the finial the color of your choice.
I chose to distress my stand with sand paper and Soy Stain because I wanted it to have a vintage look, but you may not like distressing, and that's just fine.  🙂  Next, spray the stand and the finial with a clear coat to protect it.
Once everything is dry, use an industrial strength adhesive to adhere the finial to the top of the glass candle holder.  (I know the finial is not painted in this photo.  Please ignore that…)  This creates your cloche.
You can embellish your cloche with anything you'd like.  I chose jute and a skeleton key.
To create the frame to go inside the cloche, simply decorate a small frame from the craft store with scrapbook paper and stickers. 
 Put your frame inside your cloche and enjoy your new Valentine's Day decor!
This is a very inexpensive piece of Valentine's Day decor, and the cloche can be used for any other holiday.  Do you go all out and buy or make holiday specific decorations or do you try to buy or make versatile pieces that can also be used every day?  
I'd like to thank Dee for challenging me to create Valentine's Day decor in August!  I'd love for y'all to stop by my blog or my Facebook page and say hello!  Happy crafting!