Ciao!  My name is Morena and I post my tutorials for fast, frugal, yet fabulous projects at Morena's Corner.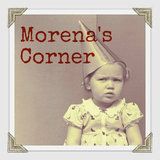 I am delighted to share a back to school gift idea with you!
This mini wagon filled with "apples"would make a cute teacher gift!  It's so easy to make you could whip up several in no time.
 As a mom to four kids, my time and resources are limited.  I do like to show a little handmade appreciation, so I whipped up this project to demonstrate that you can make something even if you don't think you're crafty or don't think you have the time.
 Disclaimer:  The wagon was provided to me by Consumer Crafts, but all ideas and opinions are my own
 For this project you will need:
Rusted Tin Wagon
Red apple push pins
(purchase apples and glue to thumb tacks)
Styrofoam
(purchased at Dollar Tree)
red tissue paper
I started by cutting the styrofoam so it fit in the wagon.
 I wrapped the styrofoam in the tissue paper.
 The apple pushpins were left over from when I was a teacher myself.  I found some on Etsy, or you could buy the apples here and glue them on to thumbtacks.
 Push the pins into the styrofoam.
 Add the ribbon to the handle.
 Watch your gift recipient smile when they receive this cute little wagon full of "apples".
Thank you for letting me share with you today!
I hope you'll come visit me at Morena's Corner to see my other tutorials, like this other teacher gift idea!