This was a fun week and I was so inspired by your Fall/Halloween Wreaths and Porches. I think the word "wow" came out when I saw them. I am so honored that you came to The CSI Project to share.
  Be sure to go through the links and find some inspiration for yourself.
Our guest judge, Michele from The Wreath Blog had the most difficult job picking the winners. I think she did a fantastic job though!
Here is what she said about her judging experience.
Well, this week's entries proved it over and over again. Our crafty world is thick with talent and inspiration. I just want to say thanks to all who entered. Admittedly, I did pull out a few clumps of hair over the following decisions. Nothing a wig won't cover up, however.
Thank you Dee for inviting me to guest-judge this week. I had a wonderful time!
Okay, here are my picks…
She had the hard task of selecting the winners, so let's see how she did.
Now, onto the winners!
And the winners are……drum roll, please…..
#32 Bittersweet Berries for Fall from Sweet Little Bluebird
Mary, your natural bittersweet swag wreath is so pretty, and such a warm accent on your front door. In fact, your entire porch decor is gorgeously inviting, and I just love it. I wish MY porch looked that good. Thank goodness for friends with secret bittersweet patches eh? Lucky girl!
#7: Fall Porch 5 DIY Tutorials from Kaleidoscope of Colors
Amanda, you did such a lovely job on your front area. You've succeeded in creating a brilliant little nook here, I'd say. A few of my favourite details include the distressed harvest sign and the pops of red in the table and basket.
#10. Fall Wreath from Kaminski's Creations
I have a soft spot for those sweet paper rosettes. A very pretty and well-executed fall wreath Erin.
#14. Autumn Wreath from Josie Jones & Co
Your re-use of the lovely oval frame as a wreath base really appeals to me. It is an elegant foil for the shabby-chic fabric roses. Great job Natalie and Kim!
#16. Serving Tray Turned Wreath from Ordinary Magic
Okay. I love it when crafters get creative and clever. To me, transforming a platter into a wreath is just that. Plus, it's just plain fun! Your platter wreath did it for me Monica. Yay!
#19. Neutral Fall Porch from Design, Dining and Diapers
Taryn, you've outdone yourself! Your entrance is amazing. I enjoyed taking in all the little details: from the pallet sign to the fall pumpkin wreath, the burlap covered mum-pot to the "Hello" bunting.
#22. Witch Silhouette Wreath from Creative Southern Home
Pardon the pun Anne, but I'm simply be-witched by your wreath! I love everything about it, from the rectangular backyard twig base to that personalized witch silhouette. It is perfect for the season!
#23. Brown Bag Faux Bay Leaf Wreath from Carolyn's Homework
I've seen many brown paper bag wreaths, Carolyn, but you have a special touch I think. I love how authentic your wreath looks and how naturally the leaves are laying in it. It's stunning!
#34. Burlap Bubble Wreath from This Little Estate
Your burlap bubble wreath is so pretty, Bethany. I thoroughly enjoyed reading about your adventures in creating it too!
#38. DIY Yarn Wrapped Fall Wreath from My So-Called Crafty Life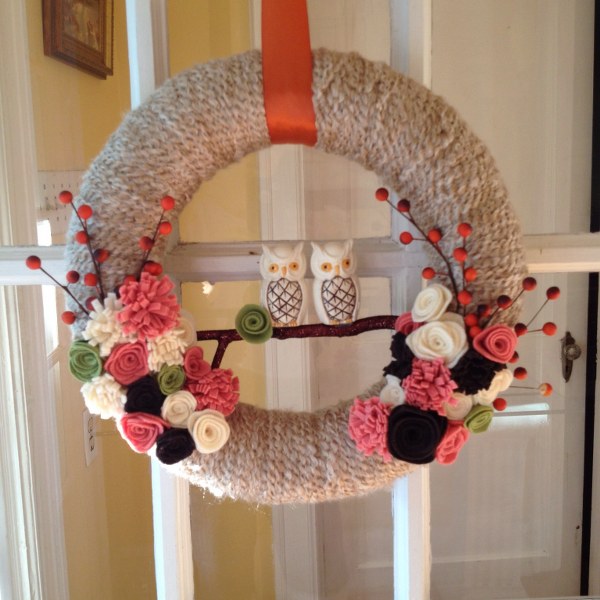 Ashlee, yours is a perfectly executed yarn-wrapped and felt flower wreath. And, it makes the coziest home for that little pair of snowy owls. Beautifully done!
#43. Vintage Jello Mold Wreath from The Ironstone Nest
A person who can see a wreath when they look at jello molds is my kind of person. And this? This is my kind of wreath. It's unexpected and I love it!
#4 Easy Halloween Wreath from Crafty in Crosby
I love the colors of this wreath! This is so cute and I would love to have it on my door! Thanks for linking up! I grew up not far from these crafters in Texas. What a small world!
Congratulations to all of the CSI winners. Be sure to go grab your button here and proudly display on your blog.
You have earned it!
But wait, there is more.
The lucky winner of the Posh Peanuts Giveaway is …….
The winner(picked by Rafflecopter is…..
#17 Imperfect Violet
Congrats and thanks for linking up and sharing with us.
Email me at dee@thecsiproject .com to claim your prize
Thank you to Michele from The Wreath Blog for being this week's guest judge and making those incredibly difficult picks. Being a judge is not an easy gig. Be sure to go by and visit her blog daily!
A special thank you to Posh Peanuts for being a fabulous sponsor.
Be sure to come back next week for the Washi Tape Challenge .
This is sure to be a great week!
Come back next week for even more inspiration!!!
Be sure to read all  about the Holiday Grins Pillowcase Drive and see how you can help spread the grins this holiday season.
Have a happy and safe weekend!