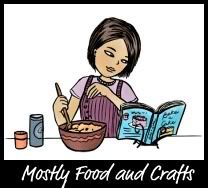 Hello Everyone!  I'm Danielle and I blog at
Mostly Food and Crafts
.  I blog mostly about food and cooking but I try to craft too when I can find the time.  We all love to cook in my house so my blog is basically my adventures in cooking for and with my family.  I know there's the saying "Too many cooks in the kitchen…" but in our house we invite everyone in.
I am so excited to be here today to tell you about a fall recipe that we make quite often around here.  Fall is my favorite season so I actually have a few great recipes that we make over and over.  This Slow Cooker Applesauce is one of our favorites.  We have 2 apple trees in our yard and this year we had a ton of apples it was the first year we were able to make a big batch of applesauce without any apples from the store.  If you have never made your own applesauce you are in for a real treat – this is so much better than the store bought stuff…enjoy!
We turned our
slow cooker
on low and put a little bit of water in the bottom of it.  Then I cored and sliced a bag of apples  (I like to leave the apple peel on some of the apples but you can remove it if you prefer.)  The kids threw the apples into the pot.  We then added some cinnamon and brown sugar along with some pumpkin pie spice.  I drizzled a little honey in their too.  Then we let it cook and came back every once in a while to do some mashing (the kids favorite part).  The results were 2 very happy kids and one empty jar.
Here is something else we like to do with apples –
Apple Chips
-a yummy and healthy snack.