Hello CSI Project readers! First off: Happy Halloween! My name is Alecia, my online home is Chicken Scratch NY and Halloween is my FAVORITE holiday.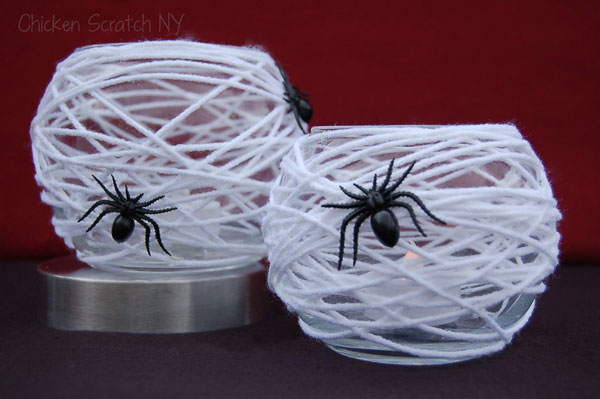 I'm a serious crafter, I love the holidays and I've been known to go all out for Halloween, Thanksgiving and Christmas. My favorite type of projects turn something old, broken (or hoarded) into something new.
I also share lots of stories about my life surrounded by farm animals (ducks, chickens, turkeys, two alpacas and two cows) and a small zoos worth of house pets.
It might not surprise you to know that my house is full of rustic, farm-y things. I like decorations that can take a beating (I have 1 year old golden retriever and a cat with a Godzilla complex) and don't cost an arm and a leg to create.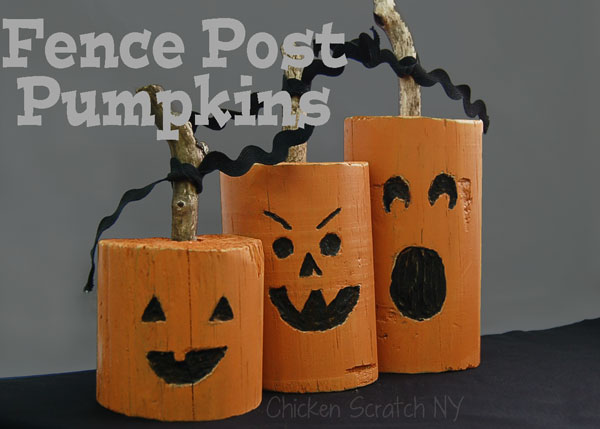 I call these my Fence Post Pumpkins. They work for Halloween and with a quick spin, all through the fall season. They are based on an other project of mine, my Firecracker Centerpiece.
You will need:
3 pieces of wood, varying heights
3 sticks for stems
Orange and black paint
Dremel with carving bit, Sanding blocks, Paint brushes, Drill with bit large enough for your sticks, Hot glue gun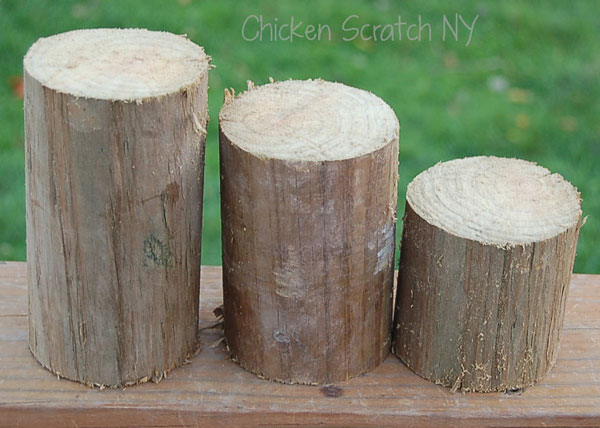 Starting with three pieces of round fence post, sand off any splintery edges and drill a hole, about 1/2 in deep in the top.
Draw or trace a face on each chunk of wood. Using the Dremel carefully carve the faces about 1/4 of an inch deep (safety glasses and masks everyone!).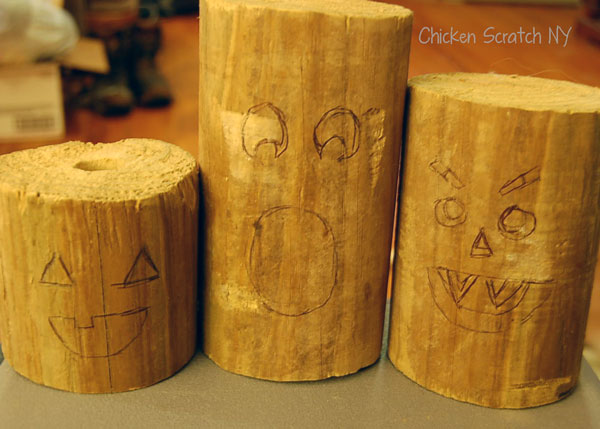 It doesn't have to be perfect, we're going for rustic here! *You can just paint the faces on skipping this step if you want.
Paint the sides and top orange and using a smaller brush fill in the face with black paint (if you do what I did and put the face on upside down this is where you drill another set of holes)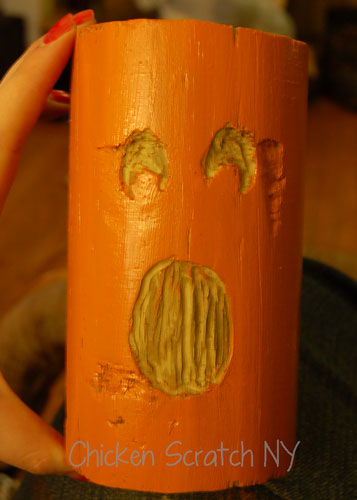 Once everything is dry sand around the edges, over the face and anywhere else you'd like a bit of the original wood to show through. Glue the stems in the holes you made earlier, tie a piece of ribbon, rick rack or raffia to the top and you've got an everlasting pumpkin display!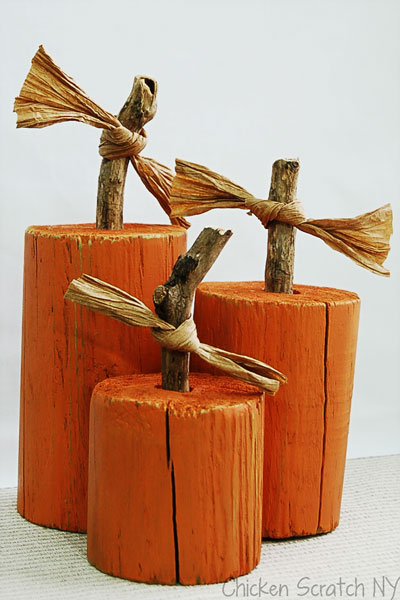 My favorite part is that you can spin them around and use them all fall and through to Thanksgiving (I love versatility in decorations).
Many thanks to the CSI project for having me, it was nice to take over for today and I hope you all have a very happy Halloween!
-Alecia