This was a fun week and I was so inspired your Painted Halloween Projects. I hope you can pin these for next year.  I am so honored that you came to The CSI Project to share. The creativity is amazing!
  Be sure to go through the links and find some inspiration for yourself.
Our guest judge, Robin from Garage Sales R Us, had the most difficult job picking the winners. I think she did a fantastic job though!
Here is what she said about her judging experience.
I loved being a guest judge because I have so many new ideas of ways I can decorate my house really cute for very inexpensive! I wish Halloween weren't over so I could hurry and do these projects and make my house look cute!
She had the hard task of selecting the winners, so let's see how she did.
Judges comments in bold.
This week, we only have 6 winners so let's get to them!
And the winners are……drum roll, please…..
#14 Glitter Pumpkin Topiaries from Diamond in the Stuff
I find pumpkins like these all the time at garage sales but I always pass them up because I don't know what to do with them. I love this project. I Loved the way she stacked them on top of each other and I thought the wood letters on the outside added the perfect touch! I also have a large pot out front of my house and never know what to do with it. I will be using this idea in my decorations for next year!
#8 Glow in the Dark  Banner from 52 Mantels
Love that it's Glow in the Dark!!!!!!!!! That is Awesome!
#13 Halloween Countown Plaque from Diamond in the Stuff
I love having countdowns till holidays because it helps kids get excited for the holidays. This sign was too dang cute for me to pass up too!
#10 Halloween Place Setting from Naptime Notebook
I am a sucker for the kids crafts! My daughter would have so much fun with this. I also love that it's a straw decoration and they can use it after they are done making it! So much fun for the kids!!!
#15 Pretty Painted Pumpkins from Cue the Confetti
I just love the way painted pumpkins look and she was so creative with hers!
#3 Paper Roll Stamp Art from Architecture of a Mom
I love that this was a project that the kids could do! I am always looking for ways to entertain my girls. They would have loved this!
#12 Halloween Fence Sign from Diamond in the Stuff
I love how cute this is! Perfect for outdoor Halloween decor!
Congratulations to all of the CSI winners. Be sure to go grab your button here and proudly display on your blog.
You have earned it!
Thank you to Robin from Garage Sales R Us for being this week's guest judge and making those incredibly difficult picks. Being a judge is not an easy gig. Be sure to go by and visit her blog daily!
Be sure to come back next week for the Craft Cornucopia: Button Challenge.
This is sure to be a great week!
Come back next week for even more inspiration!!!
Also, look for the Crafty Cornucopia next week. I am teaming up with some of my favorite bloggers!!! Be there!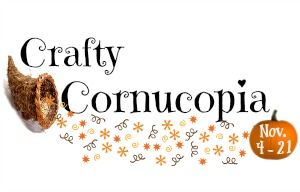 Have a happy and safe weekend!