This was a fun and grateful week.  I was so inspired your Thankgiving crafts, food and gratitude.  I am so honored and grateful  that you came to The CSI Project to share your projects. The creativity is amazing!
  Be sure to go through the links and find some inspiration for yourself.
Our guest judges, The Craft Ladies, had the most difficult job picking the winners. I think she did a fantastic job though!
Here is what they said about her judging experience.
It was a tough one! So many great crafts. Thanks again for having us as guest judges this week. We loved being part of the CSI Project!
They had the hard task of selecting the winners, so let's see how they did.
Judges comments in bold.
This week, we only have 3  winners so let's get to them!
And the winners are……drum roll, please!
We love the use of color and that each piece has meaning. We love anything that's in a jar and turquoise jars at that! Plus, her attention to detail is very Craft Ladies. Karen knows that attention to detail is key when you put on a display.
Craft Ladies would pair a crisp Chardonnay with this craft because it would match, palette-wise.
Jane's #1 Pick
Jane loves when she is given a forum to freely express her feelings!
Karen's #1 Pick
'Cause her milkshake brings all the boys to the yard.
So cute and we love that it's interchangeable for the seasons. Jane just can't get over the fact that she ruined a book.
We love that each letter was different. She made the corn out of corn and we appreciate when things are authentic. It's so disappointing when it's fake.
Not only is this a super cute craft, but we love what you went through to finish it!!!
We are pretty fond of trees because they're made out of wood. We think the Giving Tree and the Thankful Tree should get together because they would make a great couple.
We love signs!!!! We like how some of the letters are bigger. We like BIGGER.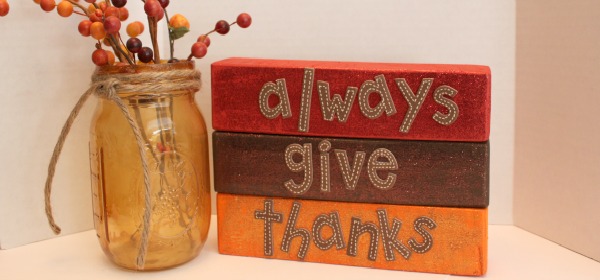 It is super easy and super cute. It's what we call a quick and dirty craft.
I love how your guests can write down what they are grateful for on the back. So cute! Thanks for linking this up. Everyone should pin these and use next year or if you just need a thank you note. Perfect for that too!
Congratulations to all of the CSI winners. Be sure to go grab your button here and proudly display on your blog.
You have earned it!
But wait there is more………..We have a winner of the My Creative Classroom giveaway.
The winner is Mary Palmieri-Bynum.
Thank you to Karen and Jane, AKA The Craft Ladies, for being this week's guest judges and making those incredibly difficult picks. Being a judge is not an easy gig. Be sure to go by and watch their craft webisodes. You will love them!!!
A special thank you to My Creative Classroom for being our sponsor of the week.
Come back next week for even more inspiration!!!