This was a fun week and I loved all of the Spray Paint Projects!  You all amazed me by your talent this week!
If you haven't browsed the links then WHAT are your waiting for?
 There is so much talent out there and I am so honored you came here to show off!!!
Be sure to go through the links and find some inspiration for yourself.
Our guest judge, Lauren from The Thinking Closet had the most difficult job picking the winners. I think she did a great job!
Lauren  had the hard task of selecting the winners, so let's see how she did.
* Note: only 6 winners this week
And the winners are…….Drum roll Please!
Judge's comments in BOLD!
What a creative and resourceful way to repurpose an old, broken clock!  This sunburst mirror is spectacular…and I'm inspired to try looking glass spray paint after reading this stellar tutorial.
You would not believe the stark contrast between the before and after pictures in this upcycle project…only something like metallic spray paint could help foster such a bold makeover!  An old rusty wagon transformed into a wagon of wedding elegance.  Exquisite work!
Spray paint can so quickly transform something ordinary into something extraordinary…as evidenced by these darling washer necklaces!  I'm always looking for practical souveniers…the kind I will actually use for a purpose.  And I love the idea of making some fashionable accessories like these to remember a special trip by.  #imsodoingthis
#9 Painting Brass Gives it Sass from
Suburble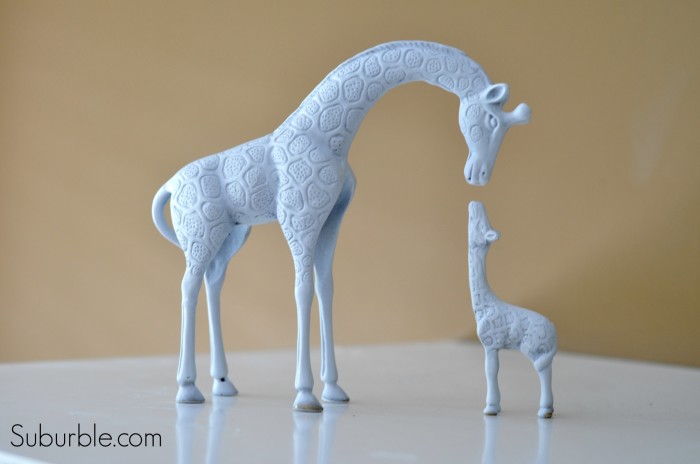 Tara has a great eye because I would have never thought that spray paint could improve upon these already cute pieces…but lo and behold, she did it (and spray paint helped)!  It now has the look of an expensive ceramic piece, but with the durability of brass.  Genius!  Storing that one in the back of the noggin' for when I have kiddos of my own.  Thanks, Tara!
Gold is my current obsession, so of course, I'm swooning over these gold mats that Thalita transformed using…wait for it…spray paint!  (No surprise there.)  And she made those cameos herself with photo prints and a sharpie.  Now, that's talent.
Heather not only shows us the power of spray paint to make old things new, but she shows the power of creative thinking!  I'm amazed at how she was able to transform a baby changing table into a sophisticated cocktail cart!  Remarkable!
#6 One of a kind cooler from Minettes Maze
This is just too fun! Take an old cooler and make something unique and fun! Great job! And she has a friend named Fritzey, which I think is really cool!
Congratulations to all of the CSI winners. Be sure to go grab your button here and proudly display on your blog.
You have earned it!
Thank you to, Lauren from The Thinking Closet for being this week's guest judge and making those incredibly difficult picks. Being a judge is not an easy gig. Be sure to go by and visit her blog!
Next week there is not a challenge due to The CSI Family taking a vacation but be back here
July 21st for the Monogram Challenge
Have a great weekend and stay safe!