Welcome back to another crafty week and YES another craft challenge!
Each week we have some brave crafters step up as the guest judge and they are always FABULOUS!
This week is no exception.
Meet Megin.
Her blogging home is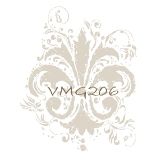 I am really happy to have Megin here. Not only does she follow her heart and leave her home state for love but she volunteers at her local animal shelter. Love that about her!
She is living out what The CSI Project is all about.
Creating, Sharing and Inspiring!
She is also very creative from paper crafting to digital crafts, she can do it all. Not to mention, she can decorate like a pro!
Since it is the Back To School challenge this week, I wanted to show you Megin's Chalk Paint Tutorial.
Make your own. I needed this!
Megin also loves a good blog party. She hosts 2 on her blog.
You can join her on Sunday's for DIY Sunday Showcase.
Fun Fact: All of her co-hosts have been CSI Guest Judges. I love that!!!!
And on Tuesday's for Brag About It
I hope you love Megin and her blog, VMH206 as much as I do.
I also hope you go over and follow this crafty, creative lovely lady!
Blog: http://www.vmg206.com/
Blog Lovin: http://blogloving.com/vmg206

Facebook:http://facebook.com/vmg206
Pinterest: http://pinterest.com/vmg206
Instagram: http://instagram.com/vmg206
Twitter: http://twitter.com/vmg206
Google +: https://plus.google.com/u/0/109554907156851570414
Go by and give Megin a  big CSi welcome and follow her!
And hey a little bribery doesn't hurt with our guest judges!
{Wink}