Welcome back to another crafty week here at The CSI Project!
This week it is all about sewing!
So get your sewing machine out and let her hum.
Share your latest and greatest sewing projects!
This week we also have another great guest judge.
Introducing you to my favorite crafty people is the best thing about my job!!!
Meet Eva.
Her blogging home is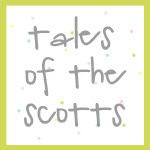 This crafty stay at home mom loves all things creative. She started with paper crafts but that led to general crafting and now sewing cute clothes for her baby girl. Her blog is full of crafts, clothes and even food. Yum!!!!
Eva shares it all and she lives out the CSI Project mission to Create.Share.Inspire!
That is why she is perfect for the job of judge and why we think she is fantastic!
Since it is a sewing challenge, here is one project of hers that is too cute and she sewed it.
So cute and this would cheer any kid up. Especially those that love super heroes!
I also love this Glitter Deer Canvas. With Christmas on its way, this little deer makes me happy!
She also gives you a great tutorial.
Go by and check it out!
This last project that I want to show you is one that I really LOVE!!!
It is just too cute!
I adore this name tag.
Perfect for a teacher or even for your child for those first day of school pictures.
Love it!!!
Eva is truly creative and I love her spirit!
I am so happy to feature her this week and have her making those hard picks.
Good luck, Eva!!!
There is so much more to see when you visit Tales of the Scotts, so I hope you head on over there and SOON!
I hope you will love Eva and her creativity as much as I do.
Also, you need to follow this lovely, crafty lady!
Here are all of the ways you  can:
blog URL : http://www.talesofthescotts.com/
facebook: https://www.facebook.com/TalesoftheScotts
twitter: https://twitter.com/talesofscotts
pinterest: http://www.pinterest.com/evamscott/boards/
instagram: http://instagram.com/talesofscotts#
Go by and give Eva a  big CSi  welcome and follow her!