There's just something about the days just before school starts that puts us into organization mode.  Maybe it's watching our kids sharpen their pencils and put new notebooks into their backpacks that gets us in an orderly state of mind–we can't help but remembering back to those days when a desk or locker space was all we had to call or own.  Or it could be that we know that the chaotic rush to get out the door each morning is around the corner, so we'd better be ready!  Whatever our reasons, it's this time of year that we like to find ways to insert a little more organization into our lives.  We're excited to view your tips and tricks for doing just that during our latest challenge.
Images: Deliciously Organized
Joining us this week as guest judge for the Organization Ideas Challenge, we have Mique from 30 Days.  (You can read more about Mique, her blog, and her Queen Bee Market HERE.)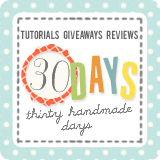 Mique will be checking out all of the ideas you enter into the challenge, then she'll select an overall winner and her ten favorite projects.  We CSI Girls will pick our favorites, too.  All of those favorites will be featured in our winners' post this Saturday.
Did you see the great tutorials we had, this week?  Just in case you missed them, here's a look at some very tidy guest tutorials…
Becky from Organizing Made Fun had her daughter's help to make this headband organizer.
These rustic rope shelves were designed to hold bathroom necessities by Jessie at Imperfectly Polished.
Funky Faith Girl Leigh created these numbered storage boxes.
Besides getting the opportunity to be featured here at The CSI Project, each project entered into the challenge will get you an entry into this week's giveaway, sponsored by Little Penelope Lane.
The giveaway winner gets a $40 Little Penelope Lane shop credit, so she can shop for darling hair wraps and accessories, like this.
To gain more entries for this fun, randomly drawn giveaway, go HERE.
The linkup starts Wednesday at midnight (EST).  It closes Friday at noon (EST).  You will still be able to visit linked projects after the linkup button disappears, but you won't be able to add any projects.  Make sure you have your projects linked
before noon on Friday

!

You'll find the linkup for this week's challenge at the end of this post, following the challenge rules.  This challenge begins at midnight (EST) Wednesday, August 17th, and ends at noon (EST) Friday, August 19th.
Please remember that to be eligible to win this week's challenge and giveaway, you must provide a link back to the challenge in your entry post.  It's easy–we have a button ready for you to insert into your post HERE.  For additional challenge rules, please read below.
1. All entries for this challenge need to incorporate the challenge's theme. We are not simply a linky party. We have a specific theme for each week. All submissions are competing to be the judge's top pick. If your project does not incorporate the theme we will have to remove it.
2. When you enter the challenge, please enter the link to the specific post on your blog that relates to the project — not to your general blog. This will help when a year from now, for example, someone who visits the site can find your project directly.
3. The CSI Project button must be in your blog post. HERE are the buttons. This makes it easy for other people to come over and join in the challenge if they like – and for us to know that we have the correct entry in the challenge when we're judging. And if you use an older post, please update it so it's current. If you don't want to update it, please add the button to that post and to the sidebar for the week of the contest. Thanks!
4. The project you submit must be your own project and something you have made. (It can be inspired by something someone else has done, but it must be your creation.)
5. We ask that you are a CSI follower or subscriber to win the prizes.  The more followers the site has — the more giveaways we are able to host
6. If you enter a project into our challenge, we ask that you please leave comments on at least 2 other entries in the contest. Not only is it nice to do, but it's a great way to meet new people and make new friends.
7. By entering, you give us permission to spotlight your projects – we will give you credit and link back to your blog. You are welcome to enter as many themed projects as you like! You also give us permission to add your name to our newsletter list. If you wish to unsubscribe you may do so at any time.
We're getting the itch to sort and label….let's get this party started!